Amy June Bates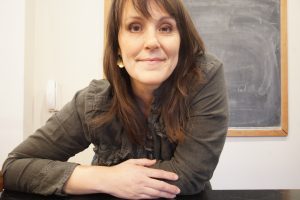 Amy June Bates is the illustrator of over 50 books. She picked up a pencil when she was three and hasn't stopped drawing since. She grew up with six younger brother and sisters, none of whom have turned into crows or swans. She has lived in California, Maryland, Michigan, Utah, Pennsylvania, and Japan. She loves to wander. She prefers the mountains.
Some of her books include THE DOG WHO BELONGED TO NO ONE by Amy Hest; BEAR IN THE AIR by Susan Meyers; KETZEL, THE CAT WHO COMPOSED by Lesléa Newman; SWEET DREAMS by Jewel; and HILLARY CLINTON: DREAMS TAKING FLIGHT by Kathleen Krull. In 2018 she published her first author-illustrated book, THE BIG UMBRELLA.
She has a messy husband and three messy kids and they all live together in a messy house with their messy dog. She lives in Carlisle, Pennsylvania, a town that is older than your great-granny.
They all like to draw.
http://amyjunebates.blogspot.com/
Download a PDF of the artist's samples here: WPA Bates art samples