Lexi K. Nilson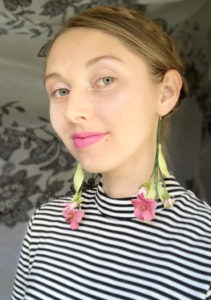 Lexi K. is a thorough pom-pom enthusiast, glitter connoisseur, and a big believer in unicorns, magic & all the colors of the rainbow. As such, her work is inspired by the whimsy of a life lived magically, aimed to reunite us with the child beastie still lingering within. She earned her BFA in Illustration with a minor in French from Brigham Young University and has since illustrated a travel guide to Jane Austen's England, JANE WAS HERE, published by Hardie Grant UK in the Spring of 2020.
In betwixt drawing and typewriter poetry, Lexi dabbles in dollhouse building, tiny clay pastry sculpture, boombox roller blading, and reading old-timey novels about quirky characters with wild hair and even wilder temperaments.
Lexi has spent time living in the Bay Area of California as well as Paris, France, where she learned the art of feeling deeply and the value of dancing in public when the occasion arises. While she currently resides in Utah, she frequently contemplates pursuing a variety of careers from dairy farmer to lip-syncing popstar; thankfully, an overactive imagination and a knack for illustration allows her to live each life without too much drastic uprooting.
Download a PDF of the artist's samples here: WPA Nilson art samples