Traci Sorell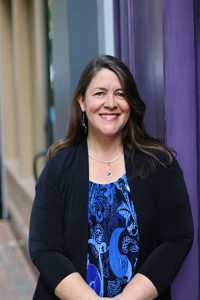 Traci grew up immersed in stories. The ones her mother told at bedtime and the accounts of her ancestors' lives mirrored her Cherokee heritage. Books she brought home from the library and selected during her school's annual Reading is Fundamental (RIF) Day showed a world beyond her life in rural northeastern Oklahoma.
As an adult, Traci has lived in four U.S. time zones and abroad in Madrid, Spain. Her early writing reflected the Native American history, law, and policy focus of her educational and professional background.
Now she lives back inside the Cherokee Nation with her family. She started writing for young people when she wanted more contemporary fiction and nonfiction children's books featuring Native Americans to share with her son. Traci's first nonfiction picture book, WE ARE GRATEFUL: OTSALIHELIGA (Charlesbridge, 2018), features the universal spirit of gratitude as experienced through modern Cherokee culture across the four seasons. The book won four national honor awards and received four starred reviews.
Her other award-winning works include: AT THE MOUNTAIN'S BASE (Kokila, 2019), INDIAN NO MORE with Charlene Willing McManis (Tu Books, 2019), CLASSIFIED: MARY GOLDA ROSS, CHEROKEE AEROSPACE ENGINEER (Millbrook, 2021), and WE ARE STILL HERE! NATIVE AMERICAN TRUTHS EVERYONE SHOULD KNOW (Charlesbridge, 2021).