Terry Widener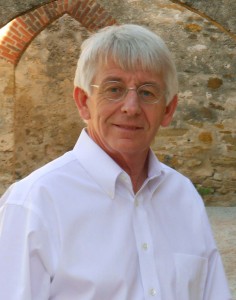 Growing up in a small Oklahoma town, Terry Widener would walk to the movies almost everyday during the summer where he would see the same movie three or four times. Afterwards Terry would go home and draw the images he had seen.
In elementary school Terry would often include an illustration on his book reports not realizing that one day this would become his life's work. Telling stories with pictures.
In high school and college he divided his time between art classes and playing on the school golf team. After earning a BFA in graphic design at the University of Tulsa Terry had a choice of working as an art director at an ad agency or an assistant pro at a golf course. He chose the art director job because it paid fifty dollars a month more.
In 1979 Terry attended the Illustrator's Workshop where Bernie Fuchs and Alan E. Cober were very influential and inspired Terry's thoughts about a career in illustration. In 1980 Terry moved to Dallas to continue his work as a graphic designer but after a year he made the decision to open his own studio and pursue a career in illustration.
For the next fifteen years Terry produced award- winning illustrations for national and international clients. Then in 1996 he was asked to illustrate a picture book. That first picture book, LOU GEHRIG: THE LUCKIEST MAN by David A. Adler received a number of awards including a Boston Globe-Horn Book Honor Book.
Over the past 21 years Terry has illustrated over 30 books which have been recognized by many state reading list, ABA, SCBWI, ALA, IRA and a number of various organization's best book lists.
Terry's work is in the collections of several corporate and private collections including the Mazza Museum International Art from Picture Books where he was a keynote speaker in 2017.
Terry's most recent book, MY NAME IS JAMES MADISON HEMINGS by Jonah Winter and published by Schwartz & Wade Books was named a New York Times Notable Children's Book of 2016, a Bank Street College of Education and Children's Book Committee Best Children's Books of the Year 2017, A Junior Library Guild Selection and received the 2017 Oklahoma Book Award Gold Medal for Illustration.
Currently Terry is working on a picture book about Yogi Berra that is scheduled for release in 2019.
Download a PDF of the artist's samples here: WPA Widener art samples